Audiobooks / Crime & Mystery
---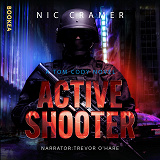 Audiobook
Active Shooter: A Tom Cody novel
Two hundred thousand people flood downtown Los Angeles to join an anti-violence protest march. One has come to kill. This hyper-drive, fifth-gear thriller chronicles the day when t ...
---
Audiobook
The woman behind the veil
The 1990's were a turbulent decade in Sweden - the country had barely recovered from the shockwaves of the still unsolved Palme murder when the economic crisis hit with full force. ...
---