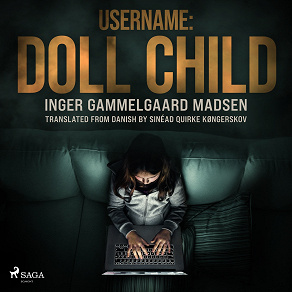 Isbn:
978-87-2688-505-7
Publisher:
Saga Egmont
Category:
Novels
Crime & Mystery
Accessible since:
September 2022
Narrator:
Emma Gregory
Length: 11 hours 58 minutes
---
Username: Doll Child
Book 1 in the best-selling Roland Benito series.

On a humid and rain-filled summer day in the Danish suburb of Brabrand, the body of a ten-year-old girl is found lifeless in a dumpster. Detective Inspector Roland Benito is immediately put on the case.

Reporter Anne Larsen and freelance photographer, Kamilla Holm, are covering the case for The Daily News and the deeper they look into the story, the more entangled they become. It quickly becomes apparent to all involved, that the crime is linked to an internet chat site where the murdered girl had a profile. The hunt for the killer is on.

But things start to get complicated when the victim's best friend mysteriously disappears. She too had a profile on the chat site. She too lied about her age.

'Doll Child' is the chilling story of the dark side to the internet, where no-one knows who is hiding behind that username or what they're capable of doing.

For fans of Karin Slaughter, Tess Geritsen and Ian Rankin.



Inger Gammelgaard Madsen is a prolific Danish crime writer, most famous for her Rolando Benito detective series. She has always been creative and was a graphic designer before returning to her first love, writing. Deeply fascinated by police work and forensics, crime fiction was a natural progression, and true crime events inspire all her stories. Madsen is also the author behind the 'Teilmann' series, which was picked as an Audible Original title and published in four languages.
Listen to sample
---