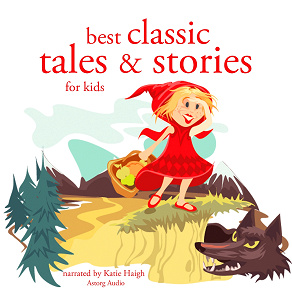 Isbn:
978-28-2110-779-3
Publisher:
Saga Egmont
Category:
3-6 years
Children's books
Accessible since:
June 2022
Narrator:
Katie Haigh
Length: 3 hours 16 minutes
---
Best Classic Tales and Stories
Classic tales and stories are an fundamental part of children's development. They connect with the essentials of our culture; they awaken imagination and bring essential teachings. This specially compilation includes classic folk tales, handed down over years and centuries for their elegance and power of evocation, and famous inspiring stories: The Story of Peter Pan, an adaptation of the play by James M. Barrie, The Three Little Pigs, The Tale of Peter Rabbit, by Beatrix Potter, The Three Bears, Rapunzel, The Frog Prince, Tom Thumb, The Brave Tin Soldier, The Snow Man by Hans Christian Andersen, Snowdrop and the Seven Dwarves, Little Red Hood, Cinderilla, Beauty and the Beast, The Wolf and the Fox, and Bluebeard by Charles Perrault.


Listen to sample
---