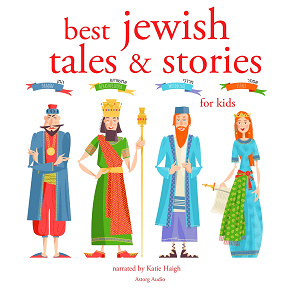 Isbn:
978-28-2110-823-3
Publisher:
Saga Egmont
Category:
3-6 years
Children's books
Accessible since:
June 2022
Narrator:
Katie Haigh
Length: 1 hour 8 minutes
---
Best Jewish Tales and Stories
Jewish folklore is full of vivid stories that both entertain and teach. We have selected for you a collection of tales and stories from the Talmud and Midrash, and rewritten to suit the needs of children of Jewish culture and any other. Along with a large helping of gentle humor, these tales entertain while being infused with the perennial Jewish struggle for survival and dignity; children will discover tales of marvel, and learn about Jewish fundamental values, such as how the wise Rabbis of old took into account the necessities of the little ones. This audiobook rassembles the following stories, narrated in a lively way: From Shepherd-Boy to King; The Water-Babe; King for Three Days; The Beggar King; The Quarrel of the Cat and Dog; The Paradise in the Sea; The Magic Palace; The Sleep of One Hundred Years; The Fairy Frog; The Rabbi's Bogey-man.


Listen to sample
---