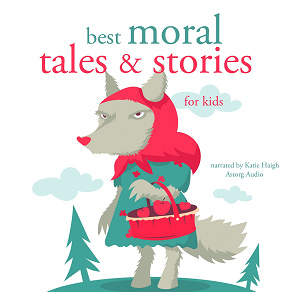 Isbn:
978-28-2110-776-2
Publisher:
Saga Egmont
Category:
3-6 years
Children's books
Accessible since:
June 2022
Narrator:
Katie Haigh
Length: 2 hours 36 minutes
---
Best Moral Tales and Stories
Fables and stories play an fundamental part in children's development. They use powerful imagery and symbols to entertain while conveying essential moral teachings; the stories ignite imagination, taking a firm root in children's minds, and gently initiate them to the essential moral principles of life. These moral tales and stories have been carefully selected for their wisdom and power of evocation: tales by Charles Perrault, Hans Christian Andersen, and various folktales for their elegance and morality, and fables by Jean de la Fontaine, the famous French poet, for their straight-to-the-point criticism of errors and the clarity of their teachings. Discover or rediscover, narrated in a warm and lively way, the following stories: The Frog Prince, The Emperor's New Clothes, The Ugly Duckling, Bluebeard, The master Cat or Puss in Boots, Beauty and the Beast, Little Red Riding Hood, The Three Sillies, The Toad, The Tale of Peter Rabbit, and The Ridiculous Wishes; by La Fontaine, The Council held by the Rats, The Frog that wished to be as big as the Ox, The City Rat and the Country Rat, The Raven and the Fox.


Listen to sample
---