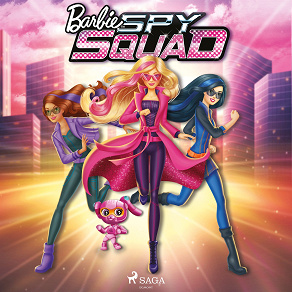 Barbie - Spy Squad
Barbie and her friends star as world-class gymnasts who are recruited as top-secret spies!

Powerful gems have been stolen, and it's up to Barbie and her friends to use their dazzling disguises, high-tech glitter gadgets, and trusty teamwork to stop a notorious jewel thief.

Mattel's Barbie doll is a fashion icon, world adventurer and every child's best friend. Since the 1950's she remains a popular toy in homes worldwide and the star of countless tv shows, movies, and books.

The popular Netflix series Barbie Dreamhouse Adventures follows Barbie, her sisters and her boyfriend Ken, as they hang out in LA and travel the world in the Barbie camper van. For younger fans, Barbie's little sister, Chelsea, takes centre stage in Barbie Dreamtopia as the sisters meet mermaids and fairies in a magical dreamland.

In recent years, Barbie has taken YouTube by storm as a popular vlogger. She talks fashion, family, her life in Malibu but also sensitively tackles tough issues like racism, mental health and body image.

Barbie's new mission is to inspire girls to dream big. A recent line of empowering role model dolls includes Indian Paralympian, Manasi Joshi, and American soccer player, Alex Morgan. While Inspiring Women celebrates heroines such as Maya Angelou, Florence Nightingale and astronaut, Sally Ride.

Barbie and associated trademarks are owned by Mattel and used under license from Mattel Europa. © 2021 Mattel

Come on an amazing adventure with Barbie and all her friends! Solve mysteries with secret doors, sea monsters and messages in a bottle, catch the baddies as a secret agent, sing in Barbie's rock band, celebrate Chelsea's birthday in Dreamtopia and fly to tropical beaches and distant planets in far-away galaxies. Let's go!
Listen to sample
---