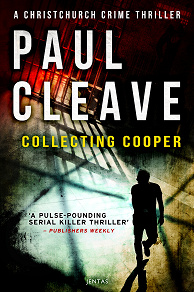 Isbn:
978-87-4283-102-1
Publisher:
Jentas
Category:
Crime & Mystery
Accessible since:
May 2021
---
Collecting Cooper
People are disappearing in Christchurch. Cooper Riley, a psychology professor, doesn't make it to work one day. Emma Green, one of his students, doesn't make it home. When ex-cop Theodore Tate is released from a four-month prison stint, he's asked by Green's father to help find Emma. After all, Tate was in jail for nearly killing her in a DUI accident the year before, so he owes him. Big time. What neither of them knows is that a former mental patient is holding people prisoner as part of his growing collection of serial killer souvenirs. Now he has acquired the ultimate collector's item—an actual killer.
Meanwhile, clues keep pulling Tate back to Grover Hills, the mental institution that closed down three years ago. Very bad things happened there. Those who managed to survive would prefer keeping their memories buried. Tate has no choice but to unearth Grover Hills' dark past if there is any chance of finding Emma Green and Cooper Riley alive…
"Uses words like lethal weapons." - New York Times
"Paul Cleave is very good indeed." - John Connolly, NYT bestselling author
"Cleave writes like the fine-tuned punches of a middleweight boxer with short sharp jabs to the solar plexus that make you gasp." - Courier Mail, Brisbane
"Most people come back from New Zealand talking about the the breathtaking scenery and the amazing experiences. I came back raving about Paul Cleave. These are stories that you won't forget in a while: relentlessly gripping, deliciously twisted and shot through with a vein of humour that's as dark as hell. Cleave creates fictional monsters as chilling and as charming as any I've ever come across. Anyone who likes their crime fiction on the black and bloody side should move Paul Cleave straight to the top of their must-read list." - Mark Billingham
Paul Cleave is currently dividing his time between his home city of Christchurch, New Zealand, where all of his novels are set, and Europe, where none of his novels are set. His novels have so far been translated into 20 languages. He has won the Saint-Maur book festival's crime novel of the year, has been shortlisted for the Ned Kelly award, the Edgar Award, the Barry Award, and has won the Ngaio Marsh award three times for NZ crime fiction.
On top of praise from the press -"the next Stephen King," "uses words as lethal weapons," "a writer to watch," and "a rising star in the genre" - Cleave numbers among his fans top crime and thriller writers.
---