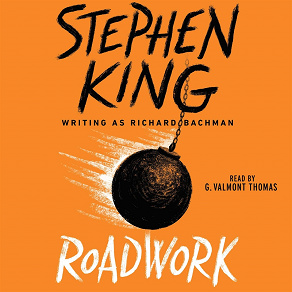 Isbn:
978-15-0821-732-9
Publisher:
Simon & Schuster
Category:
Novels
Crime & Mystery
Accessible since:
February 2020
Narrator:
G. Valmont Thomas
Length: 9 hours 38 minutes
---
Roadwork
Only Stephen King, writing as Richard Bachman, can imagine the horror of a good and angry man who fights back against bureaucracy when it threatens to destroy his vitality, home, and memories. "Under any name King mesmerizes the reader" (Chicago Sun-Times).

Barton Dawes is standing in the way of progress when his unremarkable but comfortable existence suddenly takes a turn for the worst. A new highway extension is being built right over the laundry plant where he works-and right over his home. The house he has lived in for twenty years and where he created loving memories with his family. Dawes isn't the sort of man who will take an insult of this magnitude lying down. His steadfast determination to fight the inevitable course of progress drives his wife and friends away while he tries to face down the uncaring bureaucracy that has destroyed his life. But before the city paves over that part of Dawes's life, he's got one more party to throw-and it'll be a blast.

What happens when one good (and angry) man fights back…and then some? This #1 national bestseller includes an introduction by Stephen King on "The Importance of Being Bachman."
Listen to sample
---