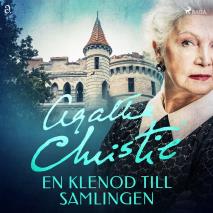 Isbn:
978-87-1195-845-2
Publisher:
Saga Egmont
Category:
Short stories
Crime & Mystery
Accessible since:
December 2018
Narrator:
Mitcho Batalov
Length: 1 hour 2 minutes
---
En klenod till samlingen
Horace Bindler samlar på fotografier av skräckföremål och blir utom sig av glädje när hans vän Raymond West tar med honom till kråkslottet Greenshaw's Folly. Slottet byggdes av en gammal affärspamp vid namn Greenshaw och vittnar om överdåd och en närmast bisarr blandning av arkitektoniska stilar.
Pampen är sedan länge borta och idag bor hans barnbarn miss Greenshaw där med en hushållerska och en trädgårdsmästare. Miss Greenshaw är i färd med att upprätta ett testamente och ber Horace och Raymond om att skriva under det som vittne. Innan bläcket har torkat börjar märkliga saker hända på Greenshaw's Folly och snart befinner sig Raymond mitt i en mordgåta och ber därför miss Marple om hjälp …


Agatha Christie (1890-1976) var en brittisk deckarförfattare och världens bäst säljande författare efter Shakespeare med över 4 miljarder böcker sålda på engelska och andra språk. Mest känd är hon för detektiven Hercule Poirot. Tillsammans med Arthur Conan Doyle är hon den som har format deckargenren mest.
---
"En klenod till samlingen", ur novellsamlingen "Äventyret med julpuddingen" © 1961 Agatha Christie Limited. All rights reserved.
"Greenshaw's Folly", from the collection of short stories entitled "The Adventure of the Christmas Pudding" © 1960 Agatha Christie Limited. All rights reserved.
AGATHA CHRISTIE © MISS MARPLE © are registered trademarks of Agatha Christie Limited in the UK and/or elsewhere. All rights reserved.
Listen to sample
---